We're bringing a whole new perspective to training by creating a fully immersive environment using 360 videos so that staff can experience how it feels to be a patient.
This approach is born from extensive PhD research by Nick Peres, Visual Technologies R&D Lead at Torbay and South Devon NHS Foundation Trust and creator of PatientVR.co.uk, examining humanistic skills training within healthcare education, Nick believed that by filming carefully constructed scenarios and watching them using immersive viewing, ie virtual reality goggles, learners can be transported into the shoes of the patient in a way not previously achievable. He felt that this could go a long way to helping healthcare staff understand how it feels to be the recipient of care and the powerful effect that human factors such as communication, compassion and empathy have towards helping make sense of the patient journey.
'Often by a small, simple moment for reflection, impactful change can be made'  Nick Peres
Health and Care Videos are now working with Nick alongside Torbay and South Devon NHS Foundation Trust to produce a series of 360 immersive videos that will be tested using a specially developed app.  In the future these videos will be added to our existing library for other Trusts and organisations to benefit from.
Filming 'Manual Handling', the first in the 360 immersive video series, commenced last week at Torbay Hospital with the production crew loving working with some incredible new technology and the manual handling staff enjoying a spot of acting!  Filming focused on four different training aspects to help staff change their behaviour:
What does it feel like to be a patient being hoisted from chair to bed?
What does it feel like in the environment of a ward with day to day activities going on such as cleaning, phone calls, other patients?
What are the potential hazards ie. slipping on the floor, equipment?
Are patient's needs being addressed?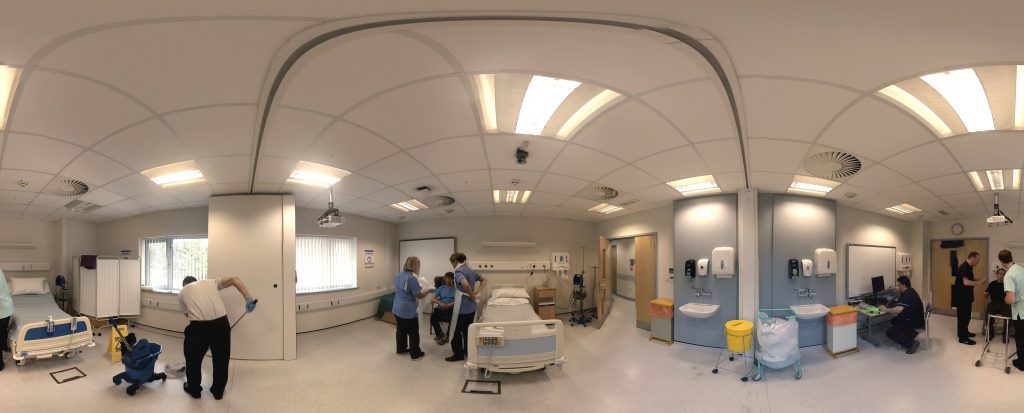 Got an idea for your own 360 production?
For more information on how you can use this video or to discuss ideas you may have for content of your own, please get in touch and we'd be happy to talk it through with you.