Healthcare videos are a powerful tool, if used correctly. They're an effective way to
engage and educate audiences about a variety of medical conditions, treatments and healthcare pathways.
Here we'll explore the statistics behind video usage in the healthcare sector, and the positive effects they can have for patients and clinicians. 
The power of video
There's no doubt that video is the next big thing in marketing and communications. In fact, Mark Zuckerberg predicts that Facebook will be mostly video by 2020. This is due, in part, to the advent of new technologies like Facebook Live and virtual reality (VR).
This shift towards visual media implies that video should be a part of most marketing strategies, and it seems that most marketing professionals agree. 51% name video as the type of content with the best ROI.
So why is it so effective? Video is powerful as it is much more engaging and memorable than its written counterparts. Viewers retain 95% of a message when they watch it in a video, compared to 10% when reading written text.
This proves that video is an excellent educational tool that resonates with audiences. It requires little effort on their part, but appeals to the visual and auditory sectors of the brain, therefore making it easier to remember.
Consumers now actively seek out videos to solve answers for their problems. Almost 5 billion videos are watched on YouTube every single day and social media platforms like Facebook and Twitter are now hot-spots for video activity.
Many might have concerns that their elderly audiences might not respond to online videos. However, recent internet use in the 65-74 age group has risen from 52% (2011) to 78% (2017). In fact, the number of women over 75 who use the internet regularly has almost trebled since 2011.
Healthcare videos are essential for audience understanding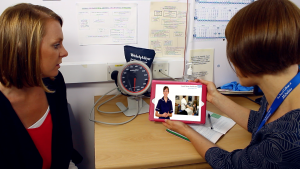 From looking at general video statistics, we can discover why videos work perfectly for the healthcare industry.
Healthcare videos are a powerful way to demonstrate complex or lengthly processes in an easy-to-understand and digestible way. Chris Dixon, the lead nurse in Rheumatology/Osteoporosis in Torbay & South Devon NHS Trust says:

"Using videos is the way forward as we're often bombarded with written information and people don't want to read it. These videos are short and sharp and our patients like them as an information source."

Videos can support both patients and organisations through most healthcare pathways. For example, a video about home treatments for arthritis could prevent patients visiting GPs for unnecessary appointments.
56% of internet users look online for information about a certain medical treatment or procedure, while 1 in 8 patients will choose to watch an online video as part of their search for answers.
Video makes the information patients are searching for much more accessible, and educates the audience in a way that saves healthcare organisations time and money. They should be considered an essential part of any patient information resource and healthcare content marketing strategy.
Examples of healthcare videos in action:
Many may be sceptical about the effects of healthcare videos, however our experience proves how beneficial they can be. Here are just some of the positive results created from our simple and easy to understand videos:
Pre-diabetes video series prevents (on average) 5 nurse appointments each week
Post-op nail video reduces patient visits by 4 minutes and allows doctors to focus on sepsis and blood clot advice
Podiatry video series reduces appointments by 10 minutes, number of re-dressing queries and follow up appointments
Clinical trial videos have drastically improved recruitment rates
As you can see, healthcare videos are very powerful. However, they rely on high quality information, a strong distribution strategy and effective implementation. 
To find out how to successfully incorporate video across all sectors of health and care, speak to our team at Health and Care Videos today.