About our primary care audience
GPs have a very limited amount of time with each patient, so it can be hard to impart all the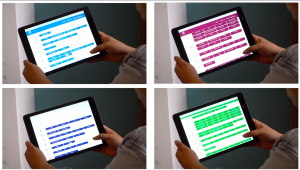 information patients need to treat their condition. To save time, GPs can share links to these videos with patients, encourage them to use the library or even favourite videos on the library app for them to watch. GP receptionists can direct patients to the library when they're making an appointment. In some cases, the videos will give them the answers they need so they will not book an appointment, therefore improving capacity within the practice.
Setting up practices with primary care libraries
To set up practices with their sector-specific libraries, we

usually work with the CCG to ensure the entire region benefits from these videos

. However, some GP practices approach us individually and we're happy to set them up too. We can either set up individual customisable libraries for each practice, or opt for a hub and spoke model based of the CCG's main site. An example of this is our recent OneCare project. They issued three libraries, one for each locality they operate in, all with local resource boxes tailored to the needs of the local community. More than half of the OneCare surgeries are now using these videos as part of their general practice. Raising awareness of the video library is incredibly important for GPs; we provide posters, QR code cards and more to share with patients. We also suggest that links/QR codes are shared on appointment letters, through SMS and email correspondence and during appointments. The library for GP practices is still growing, and we hope to see many more organisations using it in the future. If you want to know more about our primary care library, please

talk to our team today

.

We have created over 350 videos for primary care and brought them all together into one video library. Over the past few years, we have given GP surgeries across the country access to this library, and they're already seeing a powerful effect. Giving patients access to these videos will reduce costs, improve capacity and encourage self-management within the region, helping GPs everywhere reach the goal of a thriving and dynamic GP environment.