Torbay Council digital project to give free support and training to 1000s of carers
As part of their ongoing mission to meet the needs of over 16,000 people in the area that care for someone on an informal basis, Torbay Council are working in partnership with Torbay and South Devon NHS Foundation Trust and local care organisations to develop a library of easily understandable and easily accessible health information.
First phase of the project underway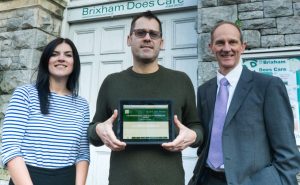 Health and Care Videos, a partner organisation of the Trust, with a track record of improving patient experience, have been enlisted to co-ordinate the project. Utilising Health and Care Videos existing videos, as well as plans for new ones, the libraries will be set up and connected to care organisations' websites. They will include over 200 information videos covering topics such as stress management for carers, caring and looking after yourself, falls prevention, learning difficulties, hospital discharge, care laws and general self-care advice. Links to other local or national resources such as the Community Podiatry Service and Diabetes UK will also be a key feature of the service as well as giving guidance on training towards a career in health and care.
'People who care for a family member or friend are busy people, and we want to make it as easy as possible for them to access the information that they want, when they want it.' says Katy Heard, Carers and Volunteers Lead at the Trust 'This might be from remembering to look after themselves properly and knowing more about particular conditions, through to planning ahead and information about legal things like Power of Attorney. We also want unpaid Carers to realise all the skills that they have and support them if they wish to develop these further or to gain skills/ qualifications which are transferable into the workplace if that is something they would like to do in the longer term.'
W
here can the videos be seen?
Phase 1 of the project involved setting up initial trial sites. These included Brixham Does Care, Torbay Community Development Trust and Torbay Council who all now have the video libraries on their websites. Phase 2 will expand this out to even more care organisations. Take a look at the libraries here at https://torbaycdt.org.uk/ (Core work tab) and http://www.brixhamdoescare.co.uk/ (Health and Care Videos tab)
James Sparks from Brixham Does Care says 'We are delighted to be up and running with the video library on our website. We see it as a vital resource that our carers will definitely benefit from and are keen to be part of shaping the service.'

Get Involved
The project has reached its most significant phase where the help of the community is needed…
'We want to hear first-hand what digital resources carers could benefit from. We want the people who will be using the service to be involved in developing it to make sure everyone gets the most out of this' says Councillor Julien Parrott, Executive Lead for Adults and Children at Torbay Council 'We expect it to be useful far beyond Torbay, with carers leading the way.'
If you are a care organisation and would like to be involved along with your service users and their carers we are holding a focus group event on 8th February at The TLH Hotel in Torquay.
For more information and to register to attend click here
or e
mail
[email protected]
or call 01626 833937