At Health & Care Videos, we are always looking for new ways to reach patients and clinicians, and we believe that an app is the next logical step.
So, we have created the 'HCV Library' app, which is now available on both iOS and Android devices. This app will make our libraries much more accessible, and includes a few features that will really help the patient journey.
Why use an app?
There are several benefits to using an app in addition to our desktop video library:
Easy to access from a phone or tablet
Portable and simple to use
Encourages self-management at home
Directs patients to local resources and support
Prevents unnecessary appointments
Sends key public health messagesstraight to users (e.g. flu jab clinics)
The HCV Library app will make it much easier for patients to access the information they need in a timely manner. This will help them manage their condition and prepare for any appointments they might have. It also contains information for carers, loved ones and clinicians, so we're encouraging them to use it too.
About the 'HCV Library' app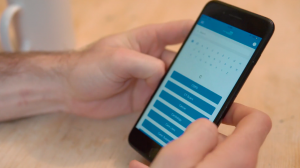 The HCV Library app is available for patients whose GP surgery, hospital or care facility has an existing library attached to their website.
All they need to do is download the app, select their healthcare organisation and start browsing the videos. There are over 350 in most libraries, but they're separated into categories and are easily searchable, so the user won't feel overwhelmed. 
The customisable resource boxes on the existing site are also transferred to the app. This means the viewer will still be signposted to effective local support.
The key thing about this app is that it gives users the option to 'favourite' videos. This brings all the videos that they find useful together into one place and makes them much easier to access and share with other people.
This works well during appointments, as doctors or carers can 'favourite' videos they think the patient might find relevant and instruct them to watch them at their own pace. This makes it much more likely that they'll understand the topic and be able to manage their care effectively.
The 'HCV Library' app also enables 2-way communication between the patient and their healthcare provider. Patients can contact their provider directly through the app and the provider can send out relevant notifications when they see fit. 
The new 'HCV Library' app is a powerful way to put knowledge into patients hands. It's an exciting step forward for Health & Care Videos as it will help us increase capacity, reduce demand and educate patients about self-care technique.
If you want to know more about the 'HCV Library' app or our videos, please contact our team.