burniva.com
. The aim is to provide patients with a full overview of all treatment options available to them depending on the stage of their knee arthritis.
In time, the consultant and physiotherapists hope this will better inform patients and allow them to make informed decisions alongside the clinicians involved in their care with better focus on shared-decision-making within the department.
About the patient decision aid
Our web developer and graphic designer worked closely with the team at Torbay to create a brand new interactive website to help patients learn about their treatment options. They started by creating a core page that clearly maps out the treatment options according to the stages of knee arthritis.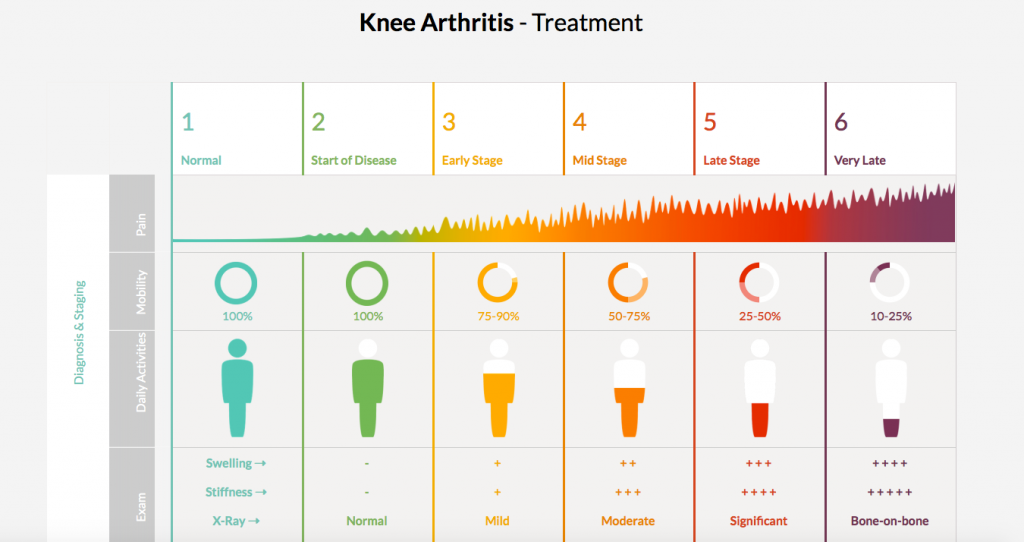 Through this graphic, knee arthritis patients and their GP or Physiotherapist can decide at what stage of the condition they are and what treatment options are best suited for their current condition.

On the web version there are two more layers to the patient decision aid. Users can select treatments to see in more detail or compare them with other treatments. There are downloadable PDFs in either infographic or table form that address what the treatment is as well as the benefits, risks, cost and limitations of that treatment.

The combination of graphics, text and videos make it much easier for patients to understand each of the options available to them and make an informed decision. An initial trial was launched in November 2018 and has already seen a positive effect. Users asked to review the tool by completing a questionnaire after their appointment using the decision aid. We also asked GP's for feedback and one gave this response:

This will help us to inform our patients of what to expect from seeing the physios or going to outpatients. The shared decision making tool was great, I think it would be very useful to show patients that infographic.

We're very proud of the work that we've done on the patient decision aid, and we're confident that it will really make a difference for both patients and knee arthritis clinics. We also believe that the template we have built can be applied to most diseases or conditions. So, in time, we hope to deploy this patient decision aid in other clinical areas of the Trust.

The orthopaedics department at Torbay & South Devon NHS Foundation Trust approached Health & Care Videos to create a new patient decision aid for knee arthritis patients in Torbay. Check out