The Safety, Sepsis and the System project has won the prestigious British Medical Journal award for Patient Safety.
Championed by our GP advisor, Dr Alison Tavaré, this project is changing the way hospitals identify and treat sepsis across the country.
Here we'll take an in-depth look at the Safety Sepsis and the System project and how they won the BMJ award.
Why is sepsis so important?
Sepsis, also known as septicaemia or blood poisoning, is a rare but serious complication of infections.
It occurs when an infection sparks a violent immune response that causes the body to attack its own organs. Doctors must treat sepsis quickly, as it can lead to shock, multiple organ failure and death.
There are approximately 260,000 cases of sepsis in the UK each year. Approximately 44,000 of those die, making sepsis the UK's leading cause of avoidable death.
Delayed diagnosis costs the UK as much as £15.6 billion annually, however, with proper identification and treatment, the NHS could save thousands of lives and reduce the economic burden by £2.8 billion.
The UK Sepsis Trust CEO, Dr Ron Daniels, says:
"It's imperative that the government acts decisively to develop a national 'sepsis registry' and introduces coding practices for sepsis in all NHS trusts. A precise understanding of how the NHS handles sepsis is urgently required to prevent avoidable deaths, improve outcomes for survivors and save billions of pounds for the UK as a whole."
Raising awareness for Sepsis
Sepsis awareness has been a priority area of work for the Academic Health Science Network, and the wider medical community, for the past few years.
In 2017, Health Secretary Jeremy Hunt announced new measures to combat sepsis, instigating the set up of several international awareness days.
Many medical organisations have started creating their own programmes to prevent sepsis. In fact, Health Education England (HEE) recently launched 'Think sepsis' to identify and manage sepsis in paediatrics.
This is a training programme for clinicians (either face-to-face or through e-Learning). It consists of interviews with the parents of three children affected by sepsis and clinical experts. They offer guidance in spotting symptoms and best practice response.
Hosted on the HEE's e-Learning platform, this course is free for all NHS staff and social care professionals.
The award-winning Safety, Sepsis and the System programme
The West of England Academic Health Science Network (WEAHSN) created the Safety, Sepsis and the System initiative.
The programme aims to standardise communication between staff and improve recognition and response to deteriorating patients. They do this by using their National Early Warning Score (NEWS) system.
By examining heart rate, blood pressure, temperature and breathing, medical professionals can give their patients a score (out of 10), and deliver treatment according to that score.
1-4 – A registered nurse will carry out an assessment
5-6 – Prompts an urgent review from an acute clinician (e.g. a ward-based doctor)
7+ – Requires an urgent assessment by a critical care team member and probably patient transfer to a high dependency unit
This ensures urgent intervention and, in many cases, prevents sepsis from progressing to the point of organ failure.
Since its implementation in the West of England, NEWS has been recommended by NICE and NCEPOD to aid early identification of sepsis.
The aim of the Safety, Sepsis and the System programme was to implement NEWS across the healthcare system and aid in the systematic improvement of patient safety.
So far, doctors across the country have welcomed the programme. Professor Jane Dacre says:
"Over the next year News will become the default early warning score for NHS Trusts and ambulances.
"Patients will benefit from its implementation, and staff will benefit from not having to learn a new score each time they join a new trust."
The Safety, Sepsis and the System programme could save over 2,000 lives and 627,000 'bed days' if implemented across the country.
The BMJ awards 2018:
The BMJ awards are highly sought after by clinicians and care teams around the UK. After all, they are the UK's leading medical awards.
In its tenth year, the BMJ event recognises and celebrates the work that healthcare teams do every day. Their aim is to promote excellence in healthcare, as well as showcase knowledge and experience that will inspire others.
More than 250 teams entered the BMJ awards this year, across several different categories:
Anaesthesia and Perioperative Medicine Team
Cancer Care Team
Clinical Leadership Team
Dermatology Team
Diagnostics Team
Education Team
Emergency Team
Innovation Team
Mental Health Team
Palliative & Hospice Team
Patient Partnersip
Patient Safety
Primary Care Team
UK Research Paper
This year's finalists presented their work to a panel and a live audience made up of other shortlisted teams. The inclusion of a live audience was a first for the BMJ awards. However, it was an exhilarating addition to the day.
A message from Alison:
Dr Alison Tavaré and her colleagues at WEAHSN did a fantastic job of presenting the Safety, Sepsis and the System programme to the panel. They accurately conveyed the magnitude of what they're trying to achieve, demonstrated the difference it could make to the health economy, and, most importantly, how many lives could be saved in the process.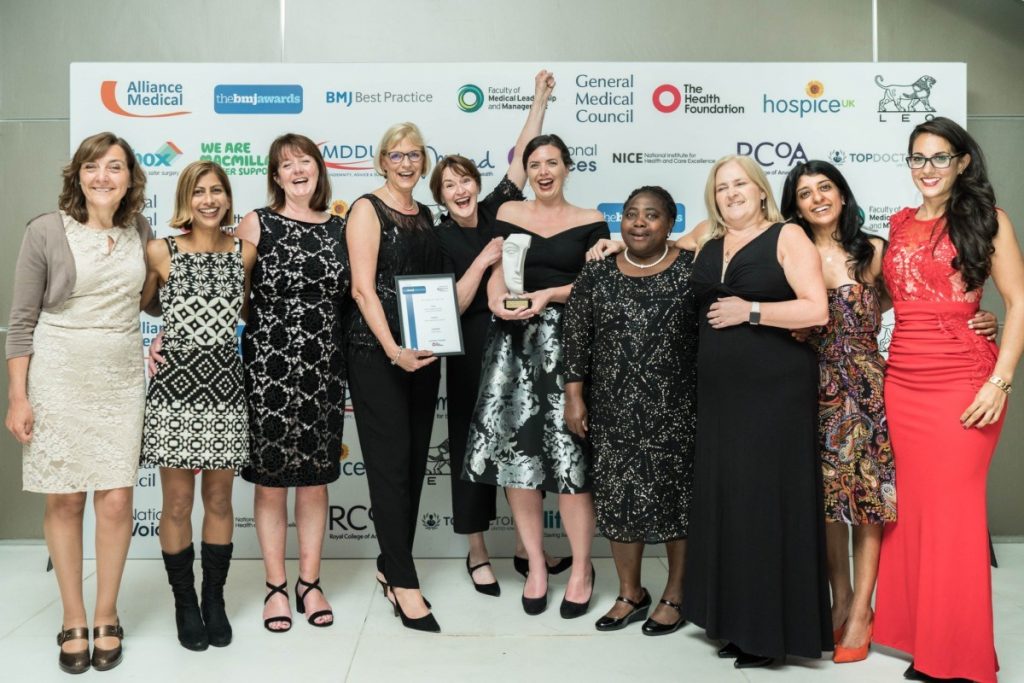 "As a clinician, I always want to improve the care the NHS gives patients, and over the past few years, I have developed a special interest in sepsis and how it can be recognised earlier and treated more promptly.
NEWS or National Early Warning Scores is a simple way of identifying patients who are seriously unwell and the team at the West of England Academic Health Science Network has supported the use of NEWS shared between GPs, community clinicians, the ambulance service, the emergency departments and the hospitals. 
The use of a 'common language' has helped to ensure the patient sees 'the right person at the right place at the right time and is resulting in fewer deaths from sepsis in the West of England. 
The team are now involved in spreading awareness of the work they have done and also looking at possible new ways of working and particularly the use of digital technology; it is very exciting to be part of this innovation." Dr Alison Tavaré
We want to take this opportunity to congratulate Alison and the Safety, Sepsis and the System team. They work hard for a fantastic cause and are rightly being recognised for it with this award. Well done!