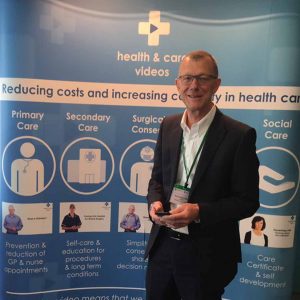 We have no choice but to give people practical knowledge in health and care. Patients across the country demand it, while an improved knowledge of self-care techniques will relieve strain on NHS resources.
I'm Richard, the director of Health & Care Videos, and this article draws on our experience, the challenges that we face and the opportunities we see within the industry.
What information do people need?
Hospitals and doctors currently look after millions of patients a day. In addition to this, there are nearly 7 million family members and friends caring for other people, and millions more supported in care environments such as care homes or domiciliary care.
All of these people need and want information about self-care. Also, the health and care system needs them to have this information so that they can better self-manage.
This information is not complex, it is just simple guidance and "how to's", for example:
How to live with their condition
How to improve my inhaler use
How to check my feet daily if I have diabetes
How to prevent a UTI at home after being discharged from hospital
How to prevent prediabetes turning into diabetes
How much I should drink
How to prepare for a colonoscopy (or other procedure/operation)
How to prevent a fall at home
What do we need to do?
To fix this gap, we must provide practical knowledge in health and care. However, before we start, we must ask ourselves:
What's the best way to get information to people where and when they need it?
How do we supply practical knowledge to them in a trusted format that they'll use?
Can we do this when the current system prevents change, doesn't have the capability, capacity or culture to adopt and implement simple solutions?
In short, we need to find an effective medium. Then we need to distribute it correctly and integrate it with current healthcare pathways.
Sharing practical knowledge in health and care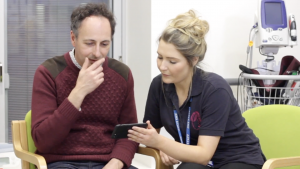 Many people won't, can't or are unable to read leaflets or text-heavy web pages. Equally, they may not be able to absorb and remember what their health care professional told them when they get home. Furthermore, they will not read lots of text on their phone or tablets.
However, they will go on to Google and YouTube to find a video that might explain the issue their doctor, care worker or practice nurse told them about.
In other words, they will choose where and how they get their information. Hence, "Dr Google" begins to grow more and more.
The health and care sector is failing to fill the gap by providing reliable and trusted information. Instead, it is being filled by unregulated and uncontrolled channels.
As a health and care system we can, and we should, satisfy this need for information. However, we must put it somewhere people live their lives, both physically and online. This may be in a hospital or GP practice, but also in shops, through their local voluntary sector support service, in the hands of their families, on their screens and at work.
How could this work?
Health & Care Videos, a partner of Torbay and South Devon NHS Foundation Trust, has worked closely with clinicians across the country to build the largest library of "how-to" and "top-tip" patient videos in the country, and possibly the world.
We now have over 900 videos supporting patients and carers. We also have more than 150 videos in production at any one time. These videos are all short, simple explainers that easy to search for and a very effective way of sharing practical knowledge in health and care.
We are an enormous resource for the health and care sector, and we are considered a 'safe' resource. This is because NHS clinicians and trusted medical professionals are involved in the creation of each video. They double-check that all the information is accurate and up-to-date.
By using our video libraries, you could easily share practical knowledge in health and care with your clients, and make a huge difference to their experience.
Video distribution
We are now fighting the challenge of distributing this content to communities across the country.
In the Torbay locality we have made massive strides, but there is still more to do. Our hospital Trust has more than 300 videos on its website and every GP in Torbay and South Devon has a library of videos on their website.
In addition to this, our work with the local authority and Better Care Fund, 25 local voluntary sector organisations have been given access to a library of videos that support informal carers.
There are several ways in which these videos can be shared, including:
Video platforms (Vimeo, YouTube etc)
Dedicated websites and learning management systems
Text messaging
Healthcare navigators
Mobile apps
Waiting room TV screens
Health and wellbeing online quizzes
We are arming carers with a video version of the Care Certificate to help them absorb the information and complete all the standards. This will standardise the quality of care across the county, and eventually the UK as well as reduce the need for hospital visits for many patients.
What are we doing at the moment?
Health & Care Videos' partnership with Torbay and South Devon NHS Foundation Trust has meant that we've made significant steps on implementing our new model of care. However, there's still more to be done.
In Liverpool, we are in the process of loading videos into their Telehealth system.
In North Devon, we put stickers on a patient's cast with a QR code and URL link that connects to videos like "how to exercise when you have broken your wrist". This helps accelerate rehabilitation and share practical knowledge in health and care.
In Wales, we're using Welsh-spoken versions of our videos. We're also in the process of adding Polish subtitles to around 30 videos.
Our aim is to put practical knowledge in health and care directly into people's hands exactly when and where they need it. Otherwise they will access inaccurate and unreliable information just because it's easier to access.
Video is a natural solution for this; stats from YouTube, Google and Facebook all suggest that it's the medium audiences most engage with. Therefore it's strange that the health and care sector strives for innovation, rather than simply implementing a technology that's been available to us for over 100 years.
This solution is not expensive; in fact, our calculations suggest that it would only cost 3p per head.
Providing practical knowledge in health and care is possible, and is possible today. We should be making changes now, to create a more effective care system for the future.
If you want to use video to improve your healthcare pathway, get in touch with our team today.