Health & Care Videos has worked in partnership with Torbay & South Devon NHS Foundation Trust to create an online digital version of the Care Certificate.
The course has been City & Guilds accredited and has now been rolled out to trust staff and care homes across Torbay.
About the Care Certificate
The Care Certificate is an induction programme for new carers or health care assistants giving them the skills and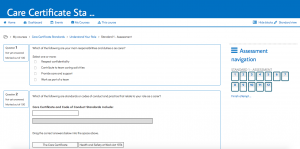 knowledge they need in order to provide high-quality care.
The course itself is split into 15 standards and in the past consisted of a paper-based workbook.  It took a large amount of a manager's and assessor's time to train and assess staff to ensure they were competent.
To overcome these issues and to support carers, resulting in a better understanding of what they are expected to learn, Health & Care Videos developed the course into an online version consisting of over 250 videos (a combination of a 'mentors' taking them through the course and 'knowledge' information they need to know), mini quizzes and interactive activities that replace the text-heavy workbook.  
The online course ends with the official assessment, and together with the manager's observation that the carer can effectively carry out roles within the workplace, they then obtain their full Care Certificate.
Why use the digital Care Certificate?
Consistency – The online version provides a consistent approach to delivering the training so ensures that all users learn to the same standard.
Trusted – developed alongside Torbay and South Devon NHS Foundation Trust and accredited by City & Guilds
Easy to understand – the videos and activities help to make the information easier to understand and what is expected of them.
Less admin – the elearning system enables the learner, manager and assessor to individually log on, meaning the latter two can track the progress of their staff.
Frees up time – the way the course has been set up means that managers and assessors do not need to spend time reading and marking the answers.   
Cost savings – reduces the need for face-to-face training sessions and the costs/time that are associated with them.
We rolled out the digital Care Certificate in Torbay in January 2018 and received the official City & Guilds accreditation in February. We are already seeing a positive response from carers and care organisations in the local area.
If you want to know more about the digital Care Certificate and can see the benefits of using it in your organisation please get in touch with our team.