As part of its ongoing commitment to support the growing number of people across Cornwall and Isles of Scilly with diabetes, NHS Kernow has made over 50 health information videos freely available via a specialised online video library.
Created by Health and Care Videos, in partnership with neighbouring Torbay and South Devon NHS Foundation Trust, these simple and engaging health information videos aim to support the estimated 29,000 people living with diabetes in Cornwall and the Isles of Scilly, to better understand and manage their condition.
The bespoke video library, covers topics including general self-care, looking after your feet, getting your eyes checked and preparing for pregnancy when you have diabetes, as well as top tips for healthy eating.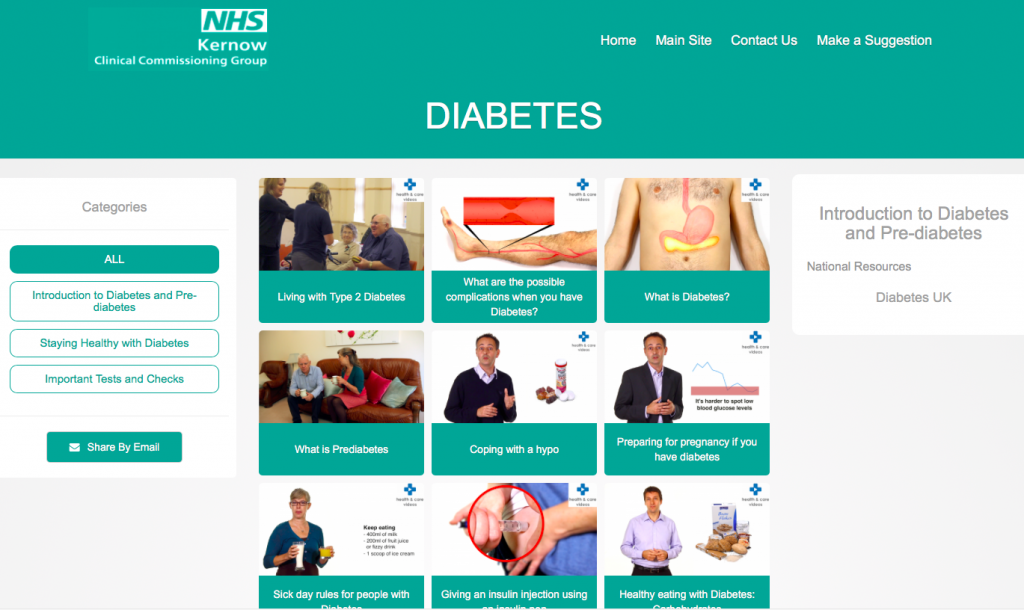 Amanda Veall, Lead Diabetes Specialist Nurse at the Cornwall Partnership NHS Foundation Trust says "We're working on a whole range of initiatives to support the 1,000 people who are diagnosed with diabetes in Cornwall and the Isles of Scilly every year. We learnt that the videos created by Health and Care Videos have boosted the confidence in recently diagnosed patients to better manage their condition, so we wanted to emulate that success in our locality. Helping people to recognise and reduce the risks associated with diabetes is one of our key priorities, so we're excited to be making this effective resource available, and offering patients an accessible source of assured and understandable health information."
With 20 general practices already engaged with the initiative, Janine Ogborne, Project Manager at Kernow CCG, is working with Daisy Whitney from Health and Care Videos to link the library to all 61 individual general practice websites in the coming months.
You can view the library on NHS Kernow's website here. To find out more about setting up your own specialty video library email [email protected]