19 GP practices in North Norfolk now have access to over 350 patient information videos.
Created by Health & Care Videos, a partnership with Torbay and South Devon NHS Foundation Trust, these simple and engaging health information videos aim to help patients take better control of their health, find quality and assured health care information, and feel better supported in managing long term conditions.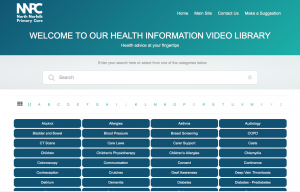 The primary care video library, launched this month by NHS North Norfolk, offers patients an alternative to written information. The short videos inform and educate patients on a variety of topics including diabetes, asthma, and general self care tips.
Reported results from other CCGs using the library include better-informed patients, shorter appointment times and reduced need for appointments.
Daisy Whitney, Project Manager at Health & Care Videos, will help GP practices use the video library effectively by attending a practice manager meeting and sharing ways to build the videos in to their current systems, and the many ways the videos can be shared with patients.
Wayne Bolt, Director of North Norfolk Primary Care Ltd, and Practice Manager at Drayton Medical Practice, commissioned this project from Health & Care Videos and is looking forward to implementing the library in practices throughout North Norfolk.
"If patients already know the basics, GPs can focus on more specific concerns the patient has during consultation. In some cases, these videos might help to improve the quality of appointments and even reduce appointment times" Wayne Bolt, Director of North Norfolk Primary Care Ltd.
You can view the library here
To find out more about setting up your own specialty video library email [email protected]