As he signed off from his role as Chief Inspector of Hospitals, Sir Mike Richards told the BBC that the NHS does not necessarily need more money to improve care, believing that 'things can be done better without more money'.
Areas for improvement were also highlighted in the recent annual assessment of NHS England that showed there are still GP practices not supporting better use of digital services and technology to transform patients' access to health and care services.
If there was better use of technology to lighten administrative burdens and patients were signposted to self-care resources, 27% of GP appointments could be freed up, a study by NHS Alliance and the Primary Care Foundation found.
So, with all this in mind, and a diagnosis that additional funding may not be the only cure, we have developed a solution that is proven to cut existing costs by saving time.
Saving time's a healer…
The answer lies in our Primary Care Patient Information Portal.
Health issues ranging from contraception advice to smoking cessation are covered in the extensive library containing over 250 videos, with more being added each month.
GPs, Practice Nurses and Pharmacists can share these videos with their patients in a variety of ways, either by embedding them on their practice websites, including links via email, QR codes on printed leaflets, text messages or through social media.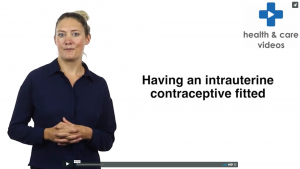 This provides welcome relief for practice nurses who are conveying the same message multiple times a day to patients, such as contraception advice.  The Sexual Health section of the library includes videos on 'What is the Progesterone only pill' and 'Having an intrauterine contraceptive fitted'. In many cases, a video can be prescribed in place of an appointment.
Other key areas include inhaler technique and diabetes, with nurses providing advice on the importance of healthy eating and exercise.
One Practice Nurse in Bristol says that 'The specialty pre-diabetes series of videos is regularly being used in our practice and has resulted in the reduction of 5 appointments a week'.  This equates to 130 hours of nurse time or £5000 saving each year.
The videos, developed by clinicians and specialists in the health and care sector, are not only working to improve patient experience, but are currently allowing GPs to save 1 minute in every consultation. This equates to them being able to see 780 more patients a year. Additionally, our library of self-care videos is helping to reduce the 1 out of every 4 GP appointments that are unnecessary and could be dealt with at home.
This shows that using video to better inform patients is increasing capacity by actively shortening GP appointment times or eliminating the need for them at all.
If you want to find out more about using the Patient Information Portal please contact us to take a look at our demo site and discuss implementation including personalisation options.