We have worked closely with three Trusts; Torbay & South Devon NHS Foundation Trust, Plymouth University Hospitals NHS Trust and North Devon Healthcare NHS Trust, to integrate video into their Transurethral Resection of the Prostate or 'TURP' consent process. 
The aim of this intervention was to reduce appointments and improve patient experience. 
Survey results shows 100% satisfaction having viewed the videos instead of the normal consent process of a face to face appointment, a sure sign that we are reaching these goals.
About the videos
Four videos were produced:
What is Transurethral Resection of Prostate or TURP?
How to prepare for a Transurethral Resection of Prostate or TURP?
Having a Transurethral Resection of Prostate or TURP operation
Recovering from a Transurethral Resection of Prostate or TURP operation
By explaining each stage of the process in detail, these videos help to relieve patient anxiety and provide consistent and standardised messaging.
How has video affected the 'TURP' consent process?
The Trusts are providing tablets and vidibooks to patients during consent appointments and are giving our QR cards that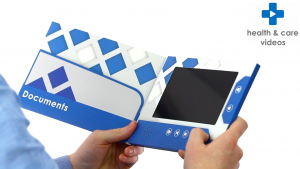 contain a link to the videos online so patients can watch at home and share with carers and family members.
Here's a link to the TURP collection in Torbay's online video library.
To assess the impact of this intervention, hospital teams shared surveys with the patients after the consent process had been completed.
100% of patients shown the videos were very satisfied by the 'TURP' consent process
This is compared to just 45% of patients who did not watch the videos described their consent process experience as 'very satisfying'.
The average age of respondents was 72.
The videos describe the 'TURP' consent process very comprehensively. They inform the patient about admission, the procedure and discharge, so help them prepare for their operation. These videos are a powerful tool as they educate patients, ensure they understand what's happening and reduces their anxiety. 
It also means that appointments tend to be shorter, as all their questions are answered through the standardised video and they can always revisit the clips at home if they're not sure about a step in the process. We're very happy with the response so far.
William Gallagher will present the new digital consent process to the British Association of Urological Surgeons in the coming months. He'll demonstrate the powerful effect these videos have on the consent process and how they are being used to increase capacity in outpatient clinics.
Here is what he thought of using the videos as part of the TURP consent process:
If you would like to include video in your 'TURP' consent process, or learn more about our videos, please contact our team at [email protected].