Torbay and South Devon NHS Foundation Trust's continued collaboration with Health and Care Videos has seen the number of patient information videos in the hospital's collection grow to over 280 individual videos.
These views have helped to reduce the pressures placed on many departments and produced several success stories, with video proving to:
* Assist in the redesign of patient pathways
* Relieve anxiety in patients
* Help manage waiting lists
* Reduce costs
* Support and facilitate staff training
* Improve compliance
* Save staff time
* Reduce appointment time, or remove the need for one at all
Here are 5 examples of how video has been deployed and the results achieved across key areas within the trust:
Success Story #1 - Podiatry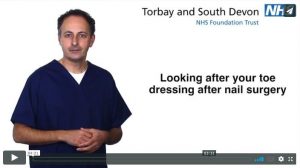 Why?
A change in the musculoskeletal pathway of patient care meant that the community podiatry team faced a large increase of over 140 patients a month across all sub specialisms.
How?
To cope with this increased demand, the MSK team and community podiatrists directed patients to specific exercise videos as part of their treatment plan as well as videos relating to toe nail surgery, post-surgery care, and general foot care. These videos are held on the Trust's public facing website here, but patients can also watch them on waiting area TV screens and on tablets during clinics, consultations and even surgery itself.
The Results
10-minute reduction in appointment time for the nail surgery team
Reduced follow-up appointments and queries for re-dressing
Shorter waiting times for patients thanks to the increased capacity of staff
Improved compliance as videos can be watched in the patient's own time at their own pace
Reduced costs associated with printing leaflets and time saved
Read more on this here
"From our point of view, it is really helpful to back up written and verbal advice with the videos as we feel there is more chance of information being absorbed. They are a great resource to be able to recommend to patients and their carers."  Su Stewart, Advanced Podiatrist
Success Story #2 - Cardiology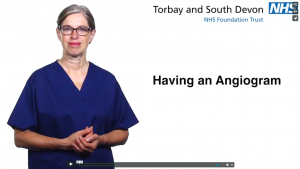 Why?
Consultants within Cardiology investigated where time could be saved within the cardiac centre and also whether Linq device implantation could be performed more simply and at a lower cost.
How?
To assist the service redesign and potentially the clinical standard operating procedure of Linq device implantation, one pre-procedure and one post-procedure video was produced. A 'Having an Angiogram' video was also created as well as 5 videos covering living with heart failure. Patients were directed to these videos on the Trust's website.
The Results
Angiogram pre-admission appointments reduced by 80%
Removed the need for all Linq implant pre-admission appointments
A saving of 4 hours of Band 5 nurse time
An annual saving of at least £3000
Improved the consent process
Read more on this here
'These videos have markedly improved the consent process and allowed us to cancel the pre-admission appointment with our arrhythmia nurses.' Phil Keeling, Consultant Cardiologist
Success Story #3 - Dietetics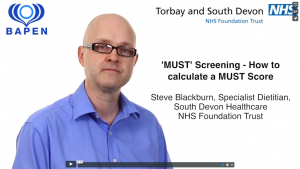 Why?
The Dietetics team saw video as a useful tool to help standardise training and assist carers and health professionals to correctly identify the nutritional needs of the people they care for.
How?
7 videos on the Malnutrition Universal Screening Tool (MUST) were created to support staff training and demonstrate the making and importance of using fortified milk.
The Results
Better managed waiting lists
Ability to reach a wider audience
Increased staff capacity
A consistent approach to training
Raised profile of malnutrition within the community
Read more on this here
'We cover nearly 200 care homes and we're a small team of 3.6 whole time equivalent staff, so it really does help to manage our waiting lists' Julie Kemmner, Clinical Community Dietician & Team Lead
Success Story #4 - Diabetes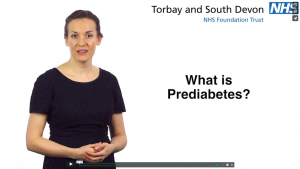 Why?
The Healthy Lifestyles Team identified that video and digital technology could help them scale their services and reach a wider audience as well as educate those unable to attend onsite clinics.
How?
A series of Diabetes related information videos were produced and used in the Healthy Lifestyles Diabetes group education sessions, but also sent out via email to non-attendees. The videos were also built in to a patient journey app.
The Results
Better informed patients
Improved confidence to self manage
100% of app users said they found the videos helpful
Wider audience reached due to more accessible format of information delivery
Find out more about this here
"The videos are very clear and they also help hold people's concentration as they are a change of format and a different way of getting the information across rather than it all coming from the deliverer." Sarah Henwood, Health Improvement Practitioner
Success Story #5 – Strength Trial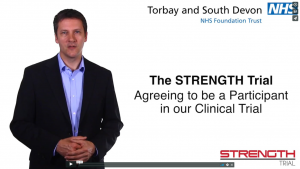 Why?
The STRENGTH trial looks at how a highly concentrated fish oil pill could reduce the effects of heart disease and lower the risk of having a stroke, or another stroke. As recruitment can be a lengthy and complex process, it was felt that video could support the procedure by making patient communication more visual, easier to digest as well as being affordable.
How?
A pilot trial was conducted to investigate the use of short videos as a patient decision aid so a series of 5 videos were produced, including 2 GP and clinician support videos, and 3 patient facing videos explaining the trial, screening, and informed consent.
The Results
Increase in recruitment rate compared to sites not using video
Increased patient understanding
Positive patient and staff feedback
Staff time saved due to better-informed patients contributing to the smooth running of the clinic
Read more on this here
'I would definitely recommend them [videos] for use in other trials and probably use them much more widely' Debbie Hughes, Lead Research Nurse
Most viewed videos
At least 6 key specialties have introduced video to their patient care, with the Physiotherapy team being the most active users, specifically with the videos within their Torbay Shoulder Exercise Programme, to help patients regain shoulder function after injury or an operation.
The most viewed video in 2017 was Torbay Massive Cuff Tear Rehabilitation (Anterior Deltoid Rehabilitation Programme). A video that explains the 10 stage non operative management programme for those who have sustained a massive rotator cuff tear.
Frances Hunt, Clinical Manager for Physiotherapy Out Patient Services Torquay, Paignton and Brixham says ''Not only have they helped us reduce the time we were spending on appointments, but they are also a great way to provide instructions to relatives and carers who may not have been able to visit at the appropriate times''
Other key specialties where video has been implemented include Maternity and Trauma and Orthopaedics with high views on videos covering hip replacement surgery, the tour of the maternity unit and a support video for pregnant women; 'Your schedule of care'.
Looking ahead at 2018…
Health and Care Videos are now working to build all existing cardiology videos, and 20 additional videos, in to a cardiology patient pathway app.
We are also pleased to be working with Torbay Council on a community focused project to extend our services to the local social care sector and provide carers, and the organisations that support them, with health information videos. You can find out more about this project here.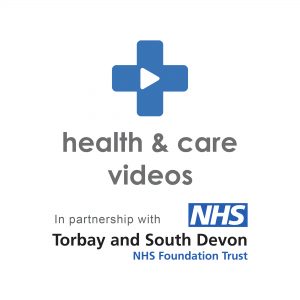 New videos coming soon:                                                                                                                                                          
5 angioplasty videos
10 video series surrounding pacemaker device education
5 atrial fibrillation pre-assessment videos
Pain management
Infiltration – Cannulation in maternity
Stroke Physiotherapy
If you would like to use video to obtain results like the above teams are continuing to see, please email [email protected] or call 01626 833937 for more information.