'Our team now direct patients to exercise videos as an aid to their treatment plan. This saves time and has meant that our patients are seen in 30 minutes rather than 40 minutes'
Head of Podiatry and Orthotics Services
'Using video allows us to deliver a consistent messaging to a wider audience, whilst saving time and money for our organisation'
Speech and Language Therapist
'We are saving 2.5 hours per week by not seeing pre-diabetes patients for lifestyle consultations'
Practice Nurse
Here at Health and Care Videos, we offer the largest centralised health information video resource in the UK and are proving that video is making an impact on reducing demand and increasing capacity in health and care. With over 700 health and care videos in our collection, we are seeing some great results from clinical teams across the UK, achieving over 9000 views per month, an increase of 73% on last year.
How our clients are using video and the libraries
Primary Care:
A CCG that saw the value in localised content is using the Primary Care Library for their 35 GP Practices.  One practice is sending text messages to patients with video links and is achieving a 20% view rate.  The Primary Care Library survey is showing an average of 3 out of 4 respondents saying that they did not need to book an appointment with their GP having watched a video.
Secondary Care:
Over 250 patient information videos are located on an NHS Trust website with content being shared using apps, tablets and email.  The same Trust is also enabling 400 care homes to have free access to a suite of 450 learning support videos alongside a completely video based Care Certificate training programme.
Social Care:
A comprehensive induction and training programme using our Knowledge Hub for an innovative and national care provider who has set up a new online platform that connects social care workers with service users and is set to change the British social care system.
Voluntary Carers:
A collaboration with a Local Authority and an NHS Trust to provide a central library of health information videos and learning resources to the 7000 unpaid carers in their region as well as encourage career progression into health and care.
And now we're making it even easier for you to share our videos
We have built a wide range of ready to use video libraries with more coming soon, each containing over 250 videos.  Take a browse around the individual libraries by clicking here.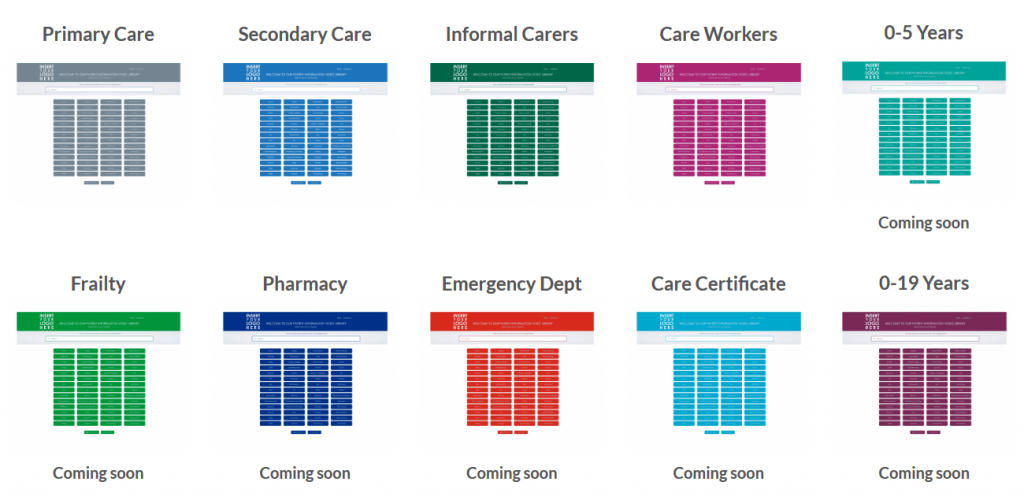 To make these libraries quick and easy to access and share with your patients and carers we have developed customisable Health Information Portals (HIPs).  HIPs come pre-loaded with a library of your choice and can be connected to your own website e.g. videos.nameofpractice.co.uk and personalised. This gives you the opportunity to respond to local needs and direct patients/carers to your own external resources, creating a central hub for all your health information to assist with treatment pathways and encourage self-care.  Find out more….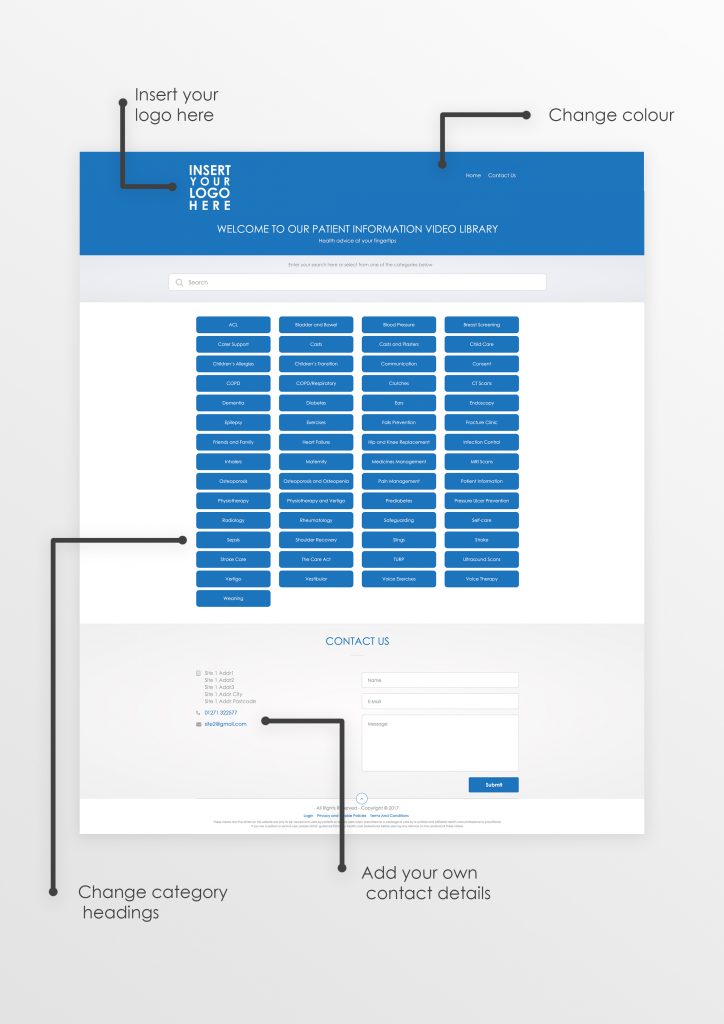 We've seen an extremely positive response so far and have set up a number of HIPs, Libraries and Knowledge Hubs for a variety of health and care providers.
The next steps
Further details about the Libraries, HIPS and Knowledge Hubs can be found here and if you'd like to get your organisation set up please email [email protected] or call 01626 833937.