If you use videos in clinical trials, you're bound to see positive results. After all, they're a powerful educational tool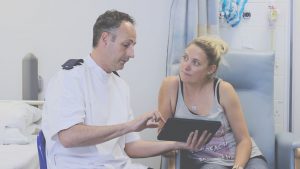 that can be distributed throughout the clinical trial process.
Through our work with the Clinical Research Network and Torbay and South Devon NHS Foundation Trust, we have already seen what video can achieve. They inform patients, streamline processes and standardise training for all involved.
Here we'll share the secret of how to use videos in clinical trials so you can replicate their success.
Why should you use video?
There are several standard benefits to using video in healthcare. It is an informative and engaging medium, explains complicated concepts in a concise and engaging form and is much easier for viewers to retain information than written content. Video is also a very shareable medium, so it can reach lots of people.
However, video is especially beneficial for clinical trials. It streamlines the convoluted and confusing on boarding process for both patients and staff. 
Videos also standardise information so there is very little variation between patients. This means that testing is more accurate, and patients are fully-supported throughout the trial.
Using videos in clinical trials is also proven to increase patient recruitment rates. Torbay and South Devon NHS Foundation Trust used 5 videos in the STRENGTH trial to educate patients and staff involved in the study.
These videos explain how to use videos as part of the trial and recruit patients with them. They also educate patients about the trial, the procedures involved and assist in receiving informed consent.
We saw that these videos had a significant impact on patients' understanding and engagement, as well as an effect on recruitment levels.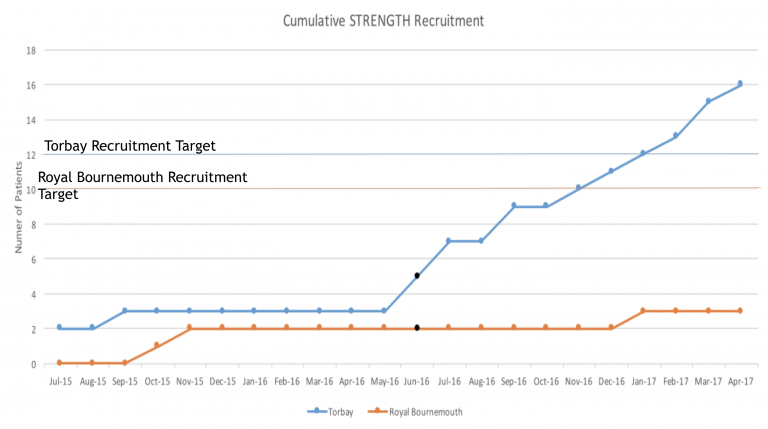 These are the benefits of using video, but how should you use videos in clinical trials to achieve maximum impact?
4 ways to use videos in clinical trials
1. Recruitment
Clinical researchers can raise awareness about their trial by placing introductory videos in waiting rooms, websites and on social media.
Equip your staff with vidi-packs or kindles to present recruitment videos to patients in the hospital. In these videos, you can explain what to expect from the trial, including:
An overview of the process
Participant criteria
Legal and compliance issues
As with the STRENGTH trial, you can use video to train staff in patient recruitment. This will help streamline the process and boost numbers.
Use these videos to simplify the complex recruitment process. Normally trial recruitment involves several medical professionals, lots of legal jargon and fragmented communications. 
If you create a dedicated website for your trial and place the videos there, your patients will have all the information they need in one place, and one core point of communication. 
You can use social media and short video clips to reach maximum impact and gain attention for a recruitment drive. They're incredibly engaging and may help you attract patients you may not have accessed otherwise.
2. Patient education
Once they are involved in the trial, you can use video to inform patients about the intricate details of the study, including:
The aims of the trial
Different procedures involved
Potential side effects
Team involved
Using videos in this way is much more effective than a conversation with a doctor. Patients will retain information better and can return to the video later if they can't remember specifics. This is another time where a website can prove useful.
Having this information easily available can relieve patient anxiety and eradicate doubts. Informing patients in this way will make the overall patient experience much better.
3. Staff training
Creating staff training videos will standardise care and ensure that the team know exactly how to
Talk to patients about the trial and procedures
Conduct different procedures involved
Follow-up accurately
Videos also reduce pressure on staff. It means that they do not have to try and remember everything in one conversation. The video gives patients standardised information that will cover all necessary points. 
This means that patients are more informed, and the research teams only focus on more complex queries about their care. This should help reduce appointment times and save the trial money.
4. Sharing findings
Once the project is complete, you can use video to share your findings with your network, industry, participants and other relevant individuals.
Video is a very sharable medium, partly because it's easy to do. Share your videos on social media, relevant websites and forums to tell the medical community about your results.
These videos should outline the methodology as well as the results of the trial. Try including interviews with research staff, patients and industry figures.
Remember the video must be subtitled if you're sharing it on social media, as not many people listen to the sound.
You should use videos in clinical trials to raise awareness, increase productivity and engage new audiences. There are lots of ways to do this, so you need to create an implementation strategy that works for you and your team. 
Health & Care Videos is working closely with clinical studies and have a full digital package on offer that can help you formulate a strategy to achieve your recruitment and management goals.
For advice on how to use videos in clinical trials, talk to the Health and Care Videos team today.