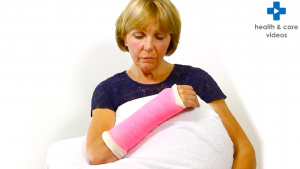 care for their casts properly. Staff have reported that it's made a significant impact on the number of pressure ulcers reported and improved tissue viability. The Royal Cornwall Hospital Trust and advocates from the local community needed to reduce demand on the fracture clinic.
It was identified that many people were coming to a follow-up appointment presenting with pressure ulcers and other complications caused by the cast itself. It was clear that something was needed that would help patients self-manage their care, with a video guide seen as a potential solution.
Stamping QR codes on casts in Cornwall
Having already supported the virtual fracture clinic in TSD, we had a range of videos on cast care. We built on these to create two staff-facing videos on how to care for someone with a cast.
Here's one of them: Caregivers were able to watch these videos at home with an memorable way of accessing the website link through a QR code stamped onto the casts once it had set.
Here are just a few of the benefits:
Increasing capacity in fracture clinic
Reducing demand for follow-up appointments
Enabling self-care and self-management
Improving quality of care
Stamping QR codes on casts helped us raise awareness about the videos and improve the quality of care in Cornwall. This success can be replicated in Trusts and communities across the country if other fracture clinics see the benefits of using such a simple concept. To find out more about our cast care videos, please

contact our team today

.

Stamping QR codes on casts in Cornwall really encouraged staff-members and patients to